CrossFire loves children and believes in investing in the future generation by helping them establish a strong relationship with Christ through a nurturing environment which promotes spiritual growth and development through the teaching of God's Word.
We have Sunday School for ages 5-12 and nursery for children ages 4 and under each week.
"Lo, children are an heritage of the Lord: and the fruit of the womb is his reward. As arrows are in the hand of a mighty man; so are the children of the youth." Ps. 127:3-4 KJV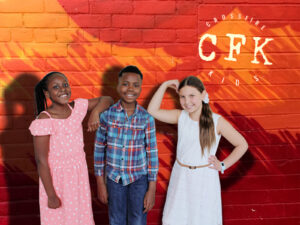 There is an epic battle raging for the hearts and minds of today's youth. Each day, they are bombarded with lies about who they are, who their Creator is, and where their salvation comes from. Thankfully, God has given His children armor to wear in this battle between truth and lies, light and darkness, good and evil.
At this summer's VBS, your children will learn how they can be part of God's kingdom through salvation in His Son, Jesus and will be equipped with the armor of God to become Keepers of the Kingdom and stand strong in today's battle for truth.
VBS will run M-F, July 24th – 28th from 12:30-5:30pm each day. On Saturday, July 29th they will then enjoy a day of fun at Bunker Beach and close the week out for recognition and awards during the Sunday morning service.
Don't miss out, register below today ages kindergarten through 6th grade! It's FREE!